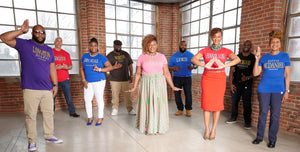 Divine 9 Tees
---
The pioneer Black Greek-letter organizations have become known as the Divine Nine, and among their ranks have been some of the most influential leaders of color in healthcare, fashion, business, global affairs, politics and more. 
The National Pan-Hellenic Council Inc. (NPHC), formed on the campus of Howard University on May 10, 1930, is a collective of the nine pioneering black Greek-letter organizations: Alpha Phi Alpha is the oldest fraternity, founded in 1906, followed by Kappa Alpha Psi  and Omega Psi Phi in 1911, Phi Beta Sigma in 1914 and Iota Phi Theta Fraternity in 1963. Among the sororities, Alpha Kappa Alpha is the oldest, founded in 1908, followed by Delta Sigma Theta Sorority in 1913, Zeta Phi Beta in 1920 and Sigma Gamma Rho Sorority, Inc. in 1922.
This Collection was created for members of the Divine 9!
If you are not a member these Tees make for a great gift for a member you know or you can check our CB Tee & Hoodie Collections!